Welcome to SpaSpace. Come in, relax, unwind, rejuvenate and find out why we were voted Chicago's best spa. - Natalie Tessler, founder
We look forward to creating an amazing experience for you and your friends. - Ilana Alberico, owner

Chicago's best massage therapists work at Spa Space, performing fully customized treatments, so you receive exactly the massage you want.

Massage includes use of a spa robe and sandals, locker room with full amenities, and rain and steam showers. Chill out before and after your services in our relaxation lounge, and snack on healthy treats while you sip on a selection of gourmet herbal teas.
January Specials
Step into 2019 with a renewed sense of what it means to live well. Never forget that the body is a temple to the soul. Embracing a healthy lifestyle is the most common New Year's resolution for a reason. In fact, it's the core resolution that all other resolutions depend on. Without vibrant health and wellness, how can we begin to really enjoy life to its fullest?

Let's pave the way for a magical year ahead by welcoming in the fresh energy of new beginnings. It all starts with a dedicated practice to steadily become the healthier, lighter, younger-looking, and all-around better you you've always wanted to be. We look forward to helping you achieve your 2019 self care goals at Spa Space!
By Planning Ahead, You Save
Six is the luckiest number...
To encourage clients to have more spa time, more often, we've created special pricing for purchasing a series of six Signature Massages, Signature Facials, or Aquafacials. Spa treatment benefits increase and expand with repeat sessions at regular intervals. When you take the time to slow down from busy urban life at Spa Space, the body regenerates by improving blood circulation, stimulating the lymphatic system to rid the body of toxins, releasing serotonin in the brain, relieving chronic pain, promoting skin cell regeneration for a more youthful appearance, and most importantly, helping to rejuvenate and relax the body and mind. Our Series Specials are a wonderful way to start the new year with a positive determination to improve your own well-being.
About Spa Space
Downtown Chicago's Spa Space offers Chicago's best massage therapy, results-driven facials, flawless manicures and pedicures, and expert waxing in a welcoming, upscale environment focused on exceptional customer service.
Spa Space is also Chicago's premier day spa for men's spa services, couples massage, and spa parties, offering 7,500 square feet of space to accommodate 14 treatment rooms, men's and women's locker rooms, a couple's massage suite, an upscale nail lounge, a private pedicure suite, a spa group hospitality suite, an extensive retail boutique, and much more.
Since its opening in June 2001, Spa Space has received a great deal of national recognition for excellence in service, unique treatment and product offerings, and its fresh approach to appealing to both men and women.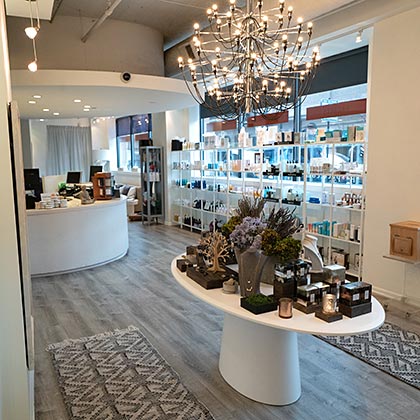 Services
Chicago spa, Spa Space has repeatedly been named the Best Spa in Chicago. Located downtown on the west edge of Chicago's Loop, Spa Space is widely known as the best Chicago spa downtown for men's spa services, women's spa services, spa parties, spa day packages, couples massage, manicures and pedicures, waxing, chemical peels, microdermabrasion, seaweed wraps, and more. Our carefully-selected, licensed and highly trained professionals have passion for their craft and a dedication to continuing education in their field, and this makes all the difference as they customize each service to the individual.
virtual tour of spa space
Contact Us
Spa Space Chicago
161 N. Canal St.
Chicago, IL 60606
info@spaspace.com
(312) 466-9585
Hours of Operation:
Spa Space is open 7 days a week, except major holidays.
Sunday: 11am-5pm
Monday: 10am-8pm
Tuesday: 11am-8pm
Wednesday: 10am-8pm
Thursday: 10am-8pm
Friday: 9am-7pm
Saturday: 9am-6pm