one third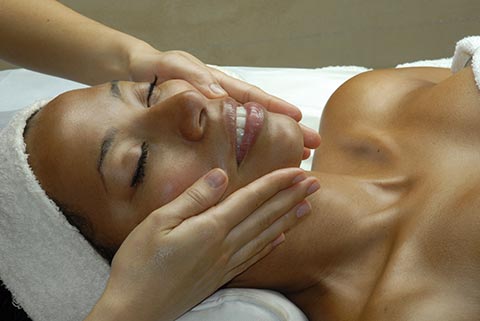 Because your skin is as unique as you are, we offer a wide variety of facials and corrective facial skincare treatments. Your licensed and highly-trained esthetician will examine your skin, consult with you, and customize your treatment to meet your skincare needs and goals.
FACIAL SKIN CARE TREATMENTS
---
Superfruit Fitness Facial (anti-aging, soothing, rosacea-safe, plant-based)
Our trademark facial for healthy skin. This high-performance, results driven treatment, combines a superfruit enzyme with a gentle glycolic solution to exfoliate the skin, followed by extractions and a treatment mask. This facial is meticulously customized for your skin's needs to improves brightness, texture and clarity. You will see and feel immediate results.
60 min;
Add-on biocellulose mask
Epicuren's Instant-Lift Brightening Facial (hyper-pigmentation, dull, aging skin)
This powerhouse facial produces the most noticeable instant anti-aging results, by using enzyme-proteins that increase the elasticity of the skin and applying layered tightening masks. The highly restorative components of Epicuren's Enzyme Concentrate Vitamin Protein Complex was originally developed in a burn treatment center, then modified and perfected to help to promote healthy cell growth within skin care products. A big dose of B vitamins helps to improve elasticity, tone, balance and overall skin health. Featured in InStyle Magazine.
60 minutes;
Series of six;
Hydrafacial
Hydrafacial uses a unique patented Vortex-Fusion delivery system to cleanse, exfoliate, extract, and hydrate. Amazing results come from this vortex effect that will easily dislodge and remove impurities while simultaneously delivering hydrating skin solutions. Hydrafacial is designed to address all skin types.
Signature Facial (all skin types, targets breakouts, deep cleansing, relaxation)
This classic European-style facial combines skin-type-specific cleansing and toning, plus exfoliation, deep-pore cleansing extractions, a treatment mask, and hydration for complete rejuvenation of the skin.
60 min;
Add Aromatherapy
Add brow & lip wax
Add-on peel – see description below
Vitamin C Booster Facial (all skin types, sensitive skin, special event booster)
This powerful, vitamin-rich skin booster uses clinical-grade SkinCeuticals products to give your skin immediate results with a three-step infusion of revitalizing vitamin C mask, hydrating b5 gel, and a balancing hydrator. Vitamin C helps to brighten the skin making this facial ideal for special occasions.
60 min;
Add brow & lip wax
Add-on peel – see description below
Rejuvenating Facial (dry skin, mature skin, sensitive skin, rosacea, cooling)
Removal of dead skin cells is the first order of business in this skin-reviving treatment. Deep cleansing and exfoliation prepare the skin for the soothing powers of a biocellulose restorative mask infused with hyaluronic acid. Ideal for a sensitive, mature, or dry skin type.
60 min;
Add brow & lip wax
Add Aromatherapy
Add-on peel – see description below
Microdermabrasion (all skin types, anti-aging, anti-acne (non-cystic))
The peak of dermatologic innovation – this machine uses sodium bicarbonate crystal particles to blast-off dead skin cells and stimulate cell turnover. Results in smoother, younger-looking skin. Great for treating acne, fine lines, excessively dry skin, sun damage, and surface age spots.
6 series
Men's Deep Clean Facial (all skin types)
Using products designed to remove dead skin cells and thoroughly clean the pores, this facial leaves the skin renewed and balanced. Ingrown hairs and breakout-prone areas are addressed.
60 min;
Add brow wax/trim
Add Aromatherapy
Add-on peel – see description below
TBD Facial
Uncertain of what your skin needs? Let our estheticians take a closer look and provide you with a custom experience that will leave your skin happy and healthy!
60 min;
Facial Express (all skin types, deep cleaning, teen-appropriate)
We'll pack in the bare essentials of a deep-cleansing facial, including exfoliation, extractions, and hydration. Great for regular maintenance of healthy skin.
30 min;
Add-on peel – see description below
Back Facial
This hard to reach and often neglected area will receive a true facial experience, including a deep-cleanse, exfoliation, extractions if needed, and a mask to balance the skin. Your esthetician will customize the treatment to best suit your skin type.
45 min;
Add a peel – see description below
ENHANCEMENT FOR FACE
---
Microcurrent
Microcurrent technology is one of the hottest innovations in the anti-aging industry and is used to perform "facial sculpting" by tightening, firming, and toning aging skin. The results are often referred to as "non-surgical facelifts."
15 min;
Spa Space performs a variety of mechanical and chemical facial peels that create enough superficial "damage" to the skin that a repair-response is triggered, stimulating collagen production and bringing newer, healthier cells to the surface. Peels not only help reduce all the signs of aging, including sun damage, dullness, and fine lines; they allow corrective skincare products to penetrate the surface layers of the skin, increasing their effectiveness.  There is no "downtime" with any of our peels.
Add-On Peel (anti-aging, complexion renewal)
A peel is for clients interested in deeper exfoliation. At Spa Space, we have several peels that utilize different hydroxy acids. Your esthetician will be able to analyze the skin and recommend the best peel to meet your skincare needs or goals. Benefits include improving effectiveness and penetration of products, boosting anti-aging efficacy and complexion renewal up to the next level.
Level 1 Peel
After the skin is cleansed and prepared, a gentle-yet-effective glycolic (fruit-based) acid will be applied to the face, removing dead cells and triggering new cell turnover.
Brightening Hot Peel (tightening mask)
Bring life back to dull, tired skin with serious exfoliation and cellular stimulation. This treatment utilizes cinnamon, causing a heating sensation on the skin, which stimulates blood flow and brings a healthy glow back to the skin. Your skin will tighten and glow with health.
Add to any facial;
Phyto Mask (re-hydrating, calming)
A botanically-based calming face mask used to intensively rehydrate and soothe temporarily reactive skin.
Ultimate Eye Treatment
These rejuvenating eye masks great enhancements to any treatment. Containing caffeine and Hydrolyzed Collagen, they will reduce puffiness, dryness, and other signs of fatigue. You will see that they are the perfect pick-me-up!
Brow Tinting
Add extra definition to your brows with natural-looking color.
Lash Tinting
Darken your lashes without using mascara!
Brow & Lash Tinting Combo