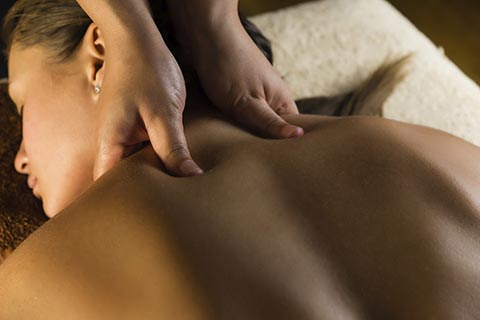 Massage
Chicago's best massage therapists work at Spa Space, performing fully customized treatments, so you receive exactly the massage you want. If you've never had a massage before, please read our frequently asked questions for general information about what to expect. Massage includes use of a spa robe and sandals, locker room with full amenities, and rain and steam showers. Chill out before and after your services in our relaxation lounge, and snack on healthy treats while you sip on a selection of gourmet herbal teas.
Reiki
Reiki is a Japanese relaxation technique that slows down the mind and raises the physical body's frequency. A Reiki session at Spa Space will not only relax you, but also shift the way you approach your daily life, as well as better connect you to your desires and purpose. A 75-minute service you will not forget!
75-minute session for $105
Add-on to any massage: Moroccan Oil Head & Scalp Treatment 
Feel amazing while improving the health of your scalp and hair during your massage. Your therapist will custom-select Moroccan Oil products designed to treat your hair and scalp type, and spend extra time working them into your scalp for stimulation and extra effectiveness. You take home the remaining product for continued hair-therapy!
15 minutes (added to any massage) $30
Space Ritual 
Our most popular specialty massage blends the best of Spa Space's offerings, incorporating elements of Deep Tissue, Swedish, Reflexology, Aromatherapy, Heated Stone Therapy, and Indian Head Massage. This full-body session provides therapeutic muscular relief while incorporating extra touches to deepen your relaxation. It's the perfect selection for a gift or if you're having trouble deciding which massage to try.
75 minutes $165
"Head to Toe" Massage 
A full-body experience for full-body relaxation including 30-minutes of Indian Head Massage (scalp, neck, and shoulders), 30-minutes of Signature Massage (see below), and 30-minutes of Reflexology (feet and hands).
90 minutes $180
Add therapeutic-grade aromatherapy — Includes your choice of a healing scent and a take-home gift of your selected aroma-therapeutic lotion or oil. +$20
The Melt 
Melt away knots and stress in your body with this tension-relieving massage session that includes 60-minutes of Hot Stone Massage, 15-minutes of Indian Head Massage, plus an additional aromatherapy upgrade. Take home the aromatherapy bottle you choose for your service.
75 minutes $175
Signature Massage
Design a treatment with your therapist that best suits your preferences and needs, whether it's a Swedish, Deep Tissue, or Sports Massage, or maybe a luxurious combination of all three. Includes steamed towels and personalized therapeutic products.
35 minutes $65
1 hour $105
1½ hours $145
2 hours $189
Add therapeutic-grade aromatherapy — Includes your choice of a healing scent and a take-home gift of your selected aroma-therapeutic lotion or oil. +$20
Indian Head Massage (Chicago Tribune pick!)
Inspired by an ancient Eastern treatment that concentrates on your head, face, neck, and shoulders, this massage helps relieve stress, anxiety, and mental tension, by cleansing and rebalancing the whole body. Great for those with persistent sleep problems.
35 minutes $65
1 hour $105
1½ hours $145
Hot Stone Therapy Massage (knock-you-out relaxing!)
Heated river stones, strategically placed, deeply warm the body and systematically massage, melt, and release the muscles. This treatment inspires unimaginable relaxation and reconnection to the body. Add CBD oil for the perfect treat.
1 hour $115
1½ hours $165
2 hours $205
*Amazing upgrade: Butter/Stone Massage: add aromatherapy body butter to your Stone Massage for a deep dose of hydration. Add $10
"Reboot" Massage (quick-fix, no need to change)
Designed to help relieve office-related stress due to strain from computer overuse, the Reboot Massage focuses mainly on areas of the upper body, including neck, shoulders, forearms, and hands. This massage modality can always be customized for your individual needs. Changing into a robe isn't necessary, so this massage is perfect for a quick lunchtime getaway or an after-work treat!
25-minutes $55
50-minutes $95
Reflexology (all about the feet!)
The ultimate sole-satisfying foot massage! Inspired by a 4,000-year-old therapy that was founded on the concept that the palms of the hands and the soles of the feet contain reflex points that connect to all organs of the body. Specific pressure techniques detect imbalances and dissipate energetic blocks to alleviate stress and promote the body's ability to heal itself.
35 minutes $65
1 hour $105
Runner's Massage/Golfer's Massage (Pre-event, Post-event or Ongoing Training)
Our therapists can enhance your training regimen and assist you in reaching your goals by strengthening muscles, relieving tension, reducing pain and preventing injury. Specifically designed to address the common aches and pains suffered by runners and golfers, this massage is meant to improve performance, address shin splints and target tightness in the calves, hamstrings, quads, glutes, lower back and hips. The session will conclude with customized stretching techniques and application of a soothing athletic gel. Read about it in the press!
1 hour $105
1½ hours $145
2 hours $189
Prenatal Massage
Specially designed for the most deserving of clients, this Swedish-style massage will help maintain the skin's elasticity while alleviating added stress on the back and legs. After the first trimester, lying face down during a massage increases the pressure on the uterus as well as the uterine ligaments. The safe alternative is to position the pregnant client on her side with her head, legs and stomach supported with pillows. The therapist can then work safely on her back and legs without creating any increased pressure. Please check with your doctor before scheduling.
1 hour $105
1½ hours $145
Series of five (1 hour each) $450
Series of ten (1 hour each) $855
Side-by-side Couples Massage–for Two (traditional couples massage)
Share the relaxation experience by scheduling your choice of massages (and/or body treatments) in our adjoining treatment rooms. Sliding doors allow plenty of personal space (and privacy if desired), but a feeling of togetherness. Great for couples or friends who would like to experience services together.
Add $10 to each massage/treatment selection.
Couples Massage: The Art of Touch (unique and romantic!)
This interactive and instructional session allows each couple to receive massages from the therapist and their partner (four hands are better than two!) to learn and practice massage techniques especially designed to suit each other's needs. A romantically unique experience!
90 min $170 (per couple)
Thai Yoga Massage
Using hands, elbows, feet and knees, your therapist will move your body into various poses and massage specific points (acupoints) to release blockages in the body's energy lines. Helps stimulate energy flow, increases flexibility, and releases stress. You'll leave invigorated and with greater range of motion. Unlike other massage modalities, you will stay fully clothed (bring loose fitting clothes like workout pants and a t-shirt). This specialized treatment has limited availability, so please call in advance to schedule.
1 hour $135
1½ hours $175
Oncology-Informed Massage
Oncology Massage involves the modification of massage therapy techniques in order to safely work with complications of cancer and cancer treatment. Several Spa Space therapists have undergone special training to safely service the large population of clients who have cancer or who have gone through cancer treatment, present or past. Benefits can include lowering blood pressure, reducing pain, nausea, anxiety and depression, improving sleep, and immune system functioning. Please check with your doctor prior to scheduling as you may have a contraindication for massage and be sure to communicate any special needs you may have at the time of scheduling.
1 hour $105
1½ hours $145
Exfoliating Body Scrub
Our facial-grade aromatic body scrubs invigorate, exfoliate and leave the skin velvety smooth. The full-body treatment is concluded with the application of a luxurious hydrating moisturizer to give your skin a healthy glow. Add a 30 or 60 minute massage for ultimate luxury.
Citrus Herbal (sensitive skin); 25 min. $60
Grapeseed; 25 min. $60
Mango-Sugar; 25 min. $60
Pacific Paradise
Spa Space's signature treatment for those seeking silky-smooth skin AND softened, relaxed muscles, including a 30-minuter body scrub followed by a 60- massage. The luscious scents will stimulate the senses, while pineapple enzymes penetrate the skin and assist in the exfoliation process, and the kukui-coconut oil nourishes and moisturizes the skin. Read about it in the press.
90 min. $170
Back Facial
This hard to reach and often neglected area will receive a true facial experience, including a deep-cleanse, exfoliation, extractions if needed, and a mask to balance the skin. Your esthetician will customize the treatment to best suit your skin type.
45 min. $130