one third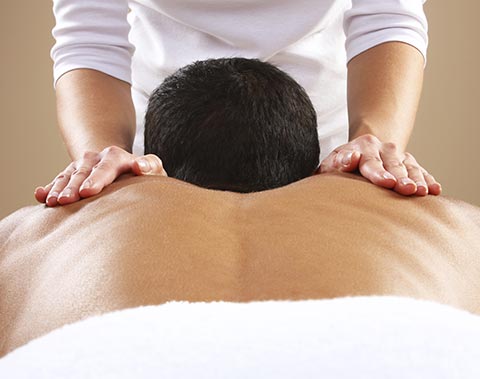 Downtown Chicago's best spa for men is Spa Space.  Our environment is very comfortable for men, offering a men's locker room with steam/rain showers and a men's relaxation lounge. While all of our services are appropriate for men, below is a list of some of our most popular services chosen by men.
Superfruit Fitness Facial (anti-aging, soothing, rosacea-safe, plant-based)
Our trademark facial for healthy skin. This high-performance, results-driven treatment combines a gentle glycolic solution with active ingredients and a stimulating facial massage. This facial is meticulously customized to your skin's needs: whether it's intense hydration, clearing breakouts, or repairing sun damage and fine lines. See and feel an immediate difference in texture, clarity, and smoothness.
60 minutes; $125
Add brow wax/trim (+$20)
Add level 1 peel (+25) – see description below
Add level 2 peel (+50) – see description below
Men's Deep Clean Facial (all skin types)
Using products designed to remove dead skin cells and thoroughly clean the pores, this facial leaves the skin renewed and balanced. Ingrown hairs and breakout-prone areas are addressed.
60 minutes; $105
Add brow wax/trim (+$20)
Add Aromatherapy (+$10)
Add level 1 peel (+25) – see description below
Add level 2 peel (+50) – see description below
Instant-Lift Brightening Facial (hyper-pigmentation, dull, aging skin)
This powerhouse facial produces the most noticeable instant anti-aging results, by using enzyme-proteins that increase the elasticity of the skin and applying layered tightening masks. The highly restorative components of Epicuren's active Enzyme Concentrate Vitamin Protein Complex were originally developed in a burn treatment center, and then modified and perfected for treatment of healthy human skin. Improves elasticity, color tone, balance, and overall skin health. Featured in InStyle Magazine.
75 minutes; $160
Series of six; $840
Back Facial
This hard to reach and oft-neglected area will be given a true "facial": a deep-cleansing, exfoliation, extractions if needed, and a mask to balance the skin. Your esthetician will customize the treatment to best suit your skin type.
45 min. $130
Add level 1 peel (+50) – see description below
CORRECTIVE PEELS
Spa Space performs a variety of mechanical and chemical facial peels that create enough superficial "damage" to the skin that a repair-response is triggered, stimulating collagen production and bringing newer, healthier cells to the surface. Peels not only help reduce all the signs of aging, including sun damage, dullness, and fine; they allow corrective skincare products to penetrate the surface layers of the skin, increasing their effectiveness.  There is no "downtime" with any of our peels.
Level 1 Peel
After the skin is cleansed and prepared, a gentle-yet-effective glycolic (fruit-based) acid will be applied to the face, removing dead cells and triggering new cell turnover.
Add to a facial; +$25
Peel without a facial; $50. Includes necessary extractions. Allow 20-25 minutes.
Level 2 Peel
Intended for clients who have received peels in the past and "graduated" to tolerate a more intensive peel, our level 2 peels take anti-aging and complexion renewal to the next level.
Add to a facial; +$50
Peel without a facial; $65. Includes necessary extractions. Allow 20-25 minutes.
Brightening Hot Peel (tightening mask)
Bring life back to dull, tired skin with serious exfoliation and cellular stimulation. Your skin will tighten and glow with health.
Add to any facial; +$25
Peel without a facial; $50. Includes necessary extractions. Allow 25 minutes.
Microdermabrasion – all skin types, anti-aging, anti-acne (non-cystic)
The peak of dermatologic innovation – this machine uses crystal particles to blast-off dead skin cells and stimulate cell turnover. Results in smoother, younger-looking skin. Great for treating acne, fine lines, excessively dry skin, sun damage, and surface age spots.
$105 for face (price varies for other areas)
$135 with extractions
$159 with full facial
Series of six; $599 (face only)
OTHER FACIAL ENHANCEMENTS
Ultimate Eye Treatment
These rejuvenating eye masks great enhancements to any treatment. Containing caffeine and Hydrolyzed Collagen, they will reduce puffiness, dryness, and other signs of fatigue. You will see that they are the perfect pick-me-up!
$19
Space Ritual (bestseller!)
Our most popular specialty massage blends the best of Spa Space's offerings, incorporating elements of Deep Tissue, Swedish, Reflexology, Aromatherapy, Heated Stone Therapy, and Indian Head Massage. This full-body session provides therapeutic muscular relief while incorporating extra touches to deepen your relaxation. It's the perfect selection for a gift or if you're having trouble deciding which massage to try.
75 minutes; $165
"Head to Toe" Massage (bestseller!)
A full-body experience for full-body relaxation including 30-minutes of Indian Head Massage (scalp, neck, and shoulders), 30-minutes of Signature Massage (see below), and 30-minutes of Reflexology (feet and hands).
90 minutes; $180
Signature Massage
Design a treatment with your therapist that best suits your preferences and needs, whether it's a Swedish, Deep Tissue, or Sports Massage, or maybe a luxurious combination of all three. Includes steamed towels and personalized therapeutic products.
35 minutes; $65
1 hour; $105
1½ hours; $145
2 hours; $189
Series of five (1 hour each); $450
Series of ten (1 hour each); $855 – best value! Save $95
Indian Head Massage (Chicago Tribune pick!)
Inspired by an ancient Eastern treatment that concentrates on your head, face, neck, and shoulders, this massage helps relieve stress, anxiety, and mental tension, by cleansing and rebalancing the whole body. Great for those with persistent sleep problems.
35 minutes; $65
1 hour; $105
1½ hours; $145
Hot Stone Therapy Massage (knock-you-out relaxing!)
Heated river stones, strategically placed, deeply warm the body and systematically massage, melt, and release the muscles. This treatment inspires unimaginable relaxation and reconnection to the body. Add CBD oil for the perfect treat.
1 hour; $115
1½ hours; $165
2 hours; $205
Amazing upgrade* Butter/Stone Massage: add aromatherapy body butter to your Stone Massage for a deep dose of hydration. Add $10
Reflexology – (all about the feet!)
The ultimate sole-satisfying foot massage! Inspired by a 4,000-year-old therapy that was founded on the concept that the palms of the hands and the soles of the feet contain reflex points that connect to all organs of the body. Specific pressure techniques detect imbalances and dissipate energetic blocks to alleviate stress and promote the body's ability to heal itself.
35 minutes; $65
1 hour; $105
"Reboot" Massage (quick-fix, no need to change)
Designed to help relieve office-related stress due to strain from computer overuse, the Reboot Massage focuses mainly on areas of the upper body, including neck, shoulders, forearms, and hands. This massage modality can always be customized for your individual needs. Changing into a robe isn't necessary, so this massage is perfect for a quick lunchtime getaway or an after-work treat!
25-minutes $55
50-minutes $95
Runner's Massage/Golfer's Massage (Pre-event, Post-event or Ongoing Training)
Our therapists can enhance your training regimen and assist you in reaching your goals by strengthening muscles, relieving tension, reducing pain and preventing injury. Specifically designed to address the common aches and pains suffered by runners and golfers, this massage is meant to improve performance, address shin splints and target tightness in the calves, hamstrings, quads, glutes, lower back and hips. The session will conclude with customized stretching techniques and application of a soothing athletic gel. Read about it in the press!
1 hour; $105
1½ hours; $145
2 hours; $189
Waxing for Men
In the interest of your safety and protection, our policy at Spa Space is to replace each applicator every time it touches the skin. This ensures that a used applicator is never dipped into the fresh wax.
Back $60+
Shoulders $25
Neck $15
Chest $45+
Eyebrows $25
Male Brazilian $75 (not currently available)
Sports Pedicure
The feet take so much abuse – the feet need maintenance. The Sports Pedicure will begin with a whirlpool foot soak, followed by an organic mint scrub with jojoba beads for exfoliation. Dead skin will be removed (necessary callouses preserved) and nails will be trimmed, filed, and cleaned up.
50 minutes; $50
Man Hands Manicure
Your hands say a lot about you… what are yours saying? Give us 30 minutes to soften the skin with a peppermint clay mask, treat the cuticles and create a clean, natural shape for your nails.
30 minutes; $29