Step into 2019 with a renewed sense of what it means to live well. Never forget that the body is a temple to the soul. Embracing a healthy lifestyle is the most common New Year's resolution for a reason. In fact, it's the core resolution that all other resolutions depend on. Without vibrant health and wellness, how can we begin to really enjoy life to its fullest? Let's pave the way for a magical year ahead by welcoming in the fresh energy of new beginnings. It all starts with a dedicated practice to steadily become the healthier, lighter, younger-looking, and all-around better you you've always wanted to be. We look forward to helping you achieve your 2019 self care goals at Spa Space!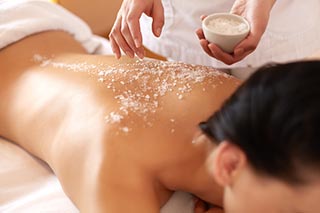 Introducing Our Privai Herbal Body Scrub & Massage: $140
(price reduction from $175)
Blistering winds and drying heaters make winter the season of parched, dull skin. Treat yourself or a loved one to a spiced aromatic scrub and massage experience, known to improve the winter blues (S.A.D), circulation, dry skin, and boost immunity during the long months of staying cooped up indoors. Exfoliation also makes your moisturizer work better. Dead skin cells build up on the skin's surface preventing moisture from soaking in—no thanks! Our seasonal 90 minute massage utilizes the luxurious botanicals of sandalwood, ginger, clove, and citrus from Privai's Herbal Body Scrub and Herbal Body Butter purposed to elevate alkaline levels and eliminate skin toxicity.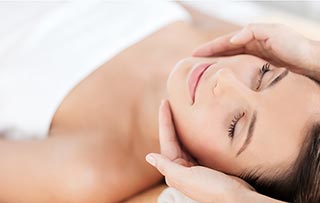 Add A Corrective Peel To Your Facial For 50% Off
Get Your Glow On For The Holidays!
Don't let the term "peel" scare you. These chemical exfoliants gently resurface the skin to treat acne, fine lines, uneven pigmentation, rough texture, and clogged pores. Your skin looks fresher, smoother, and brighter after a treatment. Plus, peels can actually help treat dry skin by removing those dead surface cells so hydrating ingredients can do their work. Winter is the best season to schedule a corrective peel because you don't spend as much time outdoors. UV exposure stimulates hyperpigmentation and your skin is extra sensitive post-peel as new growth and cell renewal brings fragile skin to the surface.
Treat Your Cold Winter Toes To A Tropical Escape: Holiday Special at $55
(50 minutes)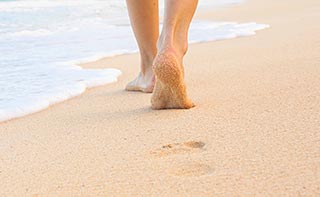 When winter's chill sets in, escape to Spa Space for a taste of a tropical getaway. Our Coconut Milk Pedicure uses Dead Sea salt to soak and exfoliate tired feet, known for centuries for its therapeutic benefits—a supremely rich mineral composition. These essential minerals naturally occur in the body and treat, detoxify, and cleanse our bodies. By maintaining a regular pedicure routine during boot season, you're upkeeping much more than a beautiful polish—the overall health of your feet. Damp and compressing socks can lead to fungus and ingrown nails, and dry skin can cause cracked heels. Our hydrating Coconut Milk Pedicure is divinely aromatic and perfect for dry and sensitive skin types. Unlace your boots, close your eyes, and allow sweet coconut milk to transport you to a white sand beach.
A Spa Space Gift Card Is Always A Good Idea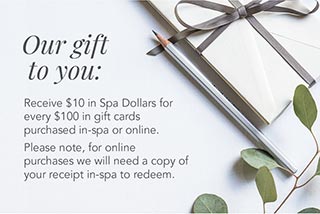 Self-care makes them happy. You're happy when they're happy. A Spa Space gift card can make everyone happy!

This season, indulge family and friends with a rejuvenating spa retreat in downtown Chicago.

Our gift to you: receive $10 in Spa Dollars for every $100 in gift cards purchased in-spa or online. Please note, for online purchases we will need a copy of your receipt in-spa to redeem.
By Planning Ahead, You Save
Six is the luckiest number…
To encourage clients to have more spa time, more often, we've created special pricing for purchasing a series of six Signature Massages, Signature Facials, or Aquafacials. Spa treatment benefits increase and expand with repeat sessions at regular intervals. When you take the time to slow down from busy urban life at Spa Space, the body regenerates by improving blood circulation, stimulating the lymphatic system to rid the body of toxins, releasing serotonin in the brain, relieving chronic pain, promoting skin cell regeneration for a more youthful appearance, and most importantly, helping to rejuvenate and relax the body and mind. Our Series Specials are a wonderful way to start the new year with a positive determination to improve your own well-being.
6x Signature Massages or Facials for $510
(regular price of $570, a $60 savings)
6x Aquafacials for $1,050
(regular price of $1,200, a $150 savings)
*Book from January 1st – January 31st for services rendered in the month of January. Offer expires January 31, 2019. Not valid in conjunction with other packages or specials.