Spring is about new life — an explosion of the senses with bright colors, sweet aromas, and the air filled with bird song. It's a time of possibility as we do away with the winter blues and embrace the great outdoors. While we may still have snow on the ground, spring creates a mindset that the chill of winter is behind us, and better days lie ahead.
The beginning of spring can also ignite a desire for renewal and new beginnings. Consider greeting spring this March with self-care rituals to welcome growth, revitalization, and renewal for yourself.
At Spa Space, we're excited to share our in-house, organic, and therapeutic grade aromatherapy blends with you, Repose and Awaken. For each of our monthly specials, you will have the opportunity to choose either of the two blends as a boost of holistic healing during your treatment, to encourage health and well-being this March!
---
Repose & Awaken Massage
90 minutes $155
(value $175)
It's time to bloom!
Our March massage special begins with a full body silk polish exfoliation to slough away dead winter skin. Then with skin smooth as ever, we'll apply hydration with either Repose or Awaken aromatherapy. Wrapped in a soothing body cocoon, we'll massage your head and neck, followed by a heavenly full body massage with the continued use of healing aromatherapy, a heightened relaxation experience beneficial for both the mind and body.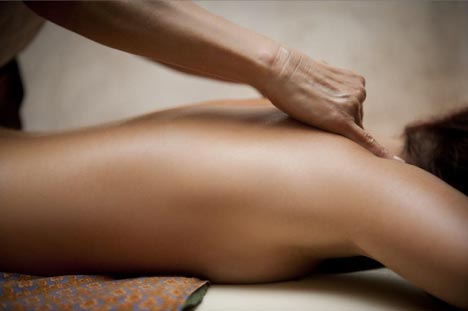 ---
Repose & Awaken Facial
75 minutes $155
(value $175)
Improve hydration, elasticity, and promote cell renewal with our Repose & Awaken Facial!
A relaxing treatment to wake up your dull and dry winter skin, combined with our Repose & Awaken aromatherapy that will calm and soothe. Our March facial special also includes microcurrent technology, an anti-aging therapy treatment used for facial contouring, toning, and firming the skin. Microcurrent is a low-level current that mimics the body's natural current and painlessly provides both instant and cumulative anti-aging results. Reveal smooth, deeply nourished skin with a healthy glow this March!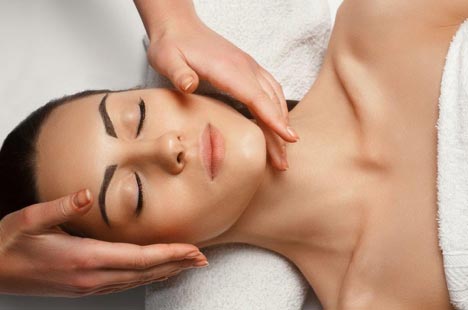 ---
Spring Awakening Pedicure
50 minutes, $55
(value $60)
Soothe your tired and dry feet with our purifying and moisturizing seasonal pedicure!
Our Spring Awakening Pedicure begins with a nourishing citrus soak to soften hard winter calluses, then awakens the feet with an invigorating shea butter sugar scrub, heals with a mask and a hot towel wrap, and finishes with body butter hydration. This pedicure will cure your toes of winter's cuticles and calluses — give your feet a fresh start this spring at Spa Space.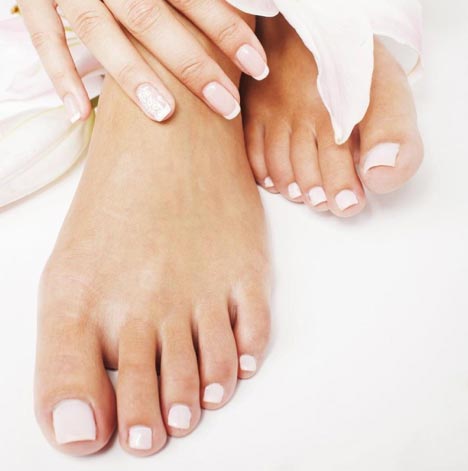 ---
Lighter with Acupuncture
Series of 6 treatments: $550
Includes Ear Seeds to continue the therapy at home! (value $750)
Acupuncture takes more than one session to see major results, which is why you should take advantage of our monthly special. Lighter with Acupuncture is our weight-loss acupuncture special that increases metabolism, reduces cravings, and lowers stress. Come in weekly for 6 weeks and you'll see noticeable results. For effective weight control, there are 4 acupuncture points on the ear – the hunger point, Shen Men point, stomach point, and endocrine point. A few tiny sterilized needles are inserted along these invisible channels to decrease the "heat" generated along these meridians and to stimulate centers that trigger the release of neurochemicals and hormones. This will help with difficult to control urges.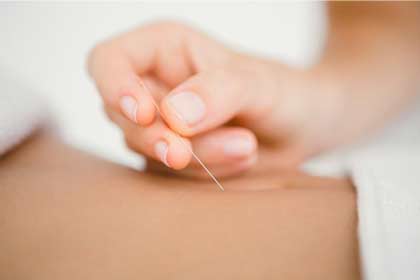 ---
BOUTIQUE SPECIAL
Bring these therapeutic benefits home — both Repose and Awaken Oils are 15% off from our retail boutique this month!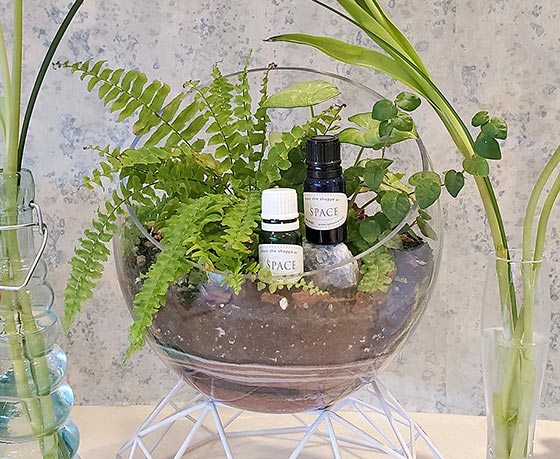 Repose
Refreshing Bergamot and tangy Blood Orange citrus notes combine with the deep earthy aroma of Patchouli and Ylang-Ylang for a soothing blend to create a relaxing atmosphere in your personal environment.
Contains: Blood Orange Oil, Bergamot Oil, Grapefruit Oil, Patchouli Oil, and Ylang Ylang Oil.
Awaken
This invigorating blend is perfect for an office or study area, as its components brighten the atmosphere to awaken the senses and promote alertness and focus. Lemon is the dominant scent, while Nutmeg and Fir Balsam balance out the citrus with spice and wood. Black Pepper contributes a piquant note to this fragrant blend.
Contains: Rosemary Oil, Juniper Berry Oil, Lemongrass Oil, Nutmeg Oil, Fir Balsam Oil, Black Pepper Oil, and Lemon Oil.

---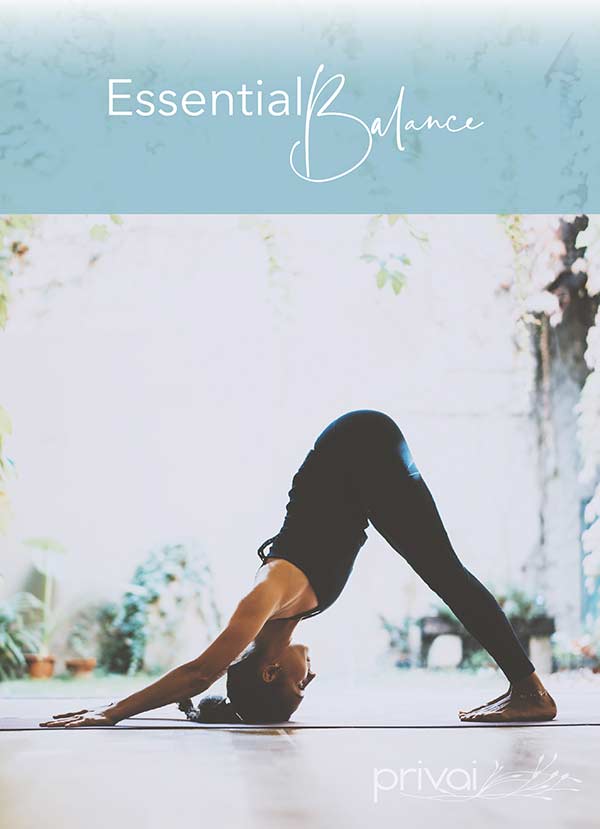 Essential Balance
105 minutes: $350
In our fast-paced, modern world finding balance is synonymous with internal well-being. Balance brings harmony within us—find your center with Privai. This 105-minute ritual revitalizes the mind and body with a silk exfoliation treatment to refresh the skin. A blissful vitamin-E massage releases overwhelming tension and imbalance from the body. A green-tea infused face massage and eye masque promote a youthful appearance by calming, hydrating, and soothing the skin.
Stones are strategically placed to dissolve energy blocks and re-establish balance in the chakras. The ancient art of reflexology is utilized through pressure points on the hands and feet that correspond to specific muscle groups and organs of the body. A singing bowl finishes the sequence by emitting healing sound and stimulating the heart chakra. Cherish the need to step back, take a deep breath, go on a walk, and enjoy the smell of the flowers.
---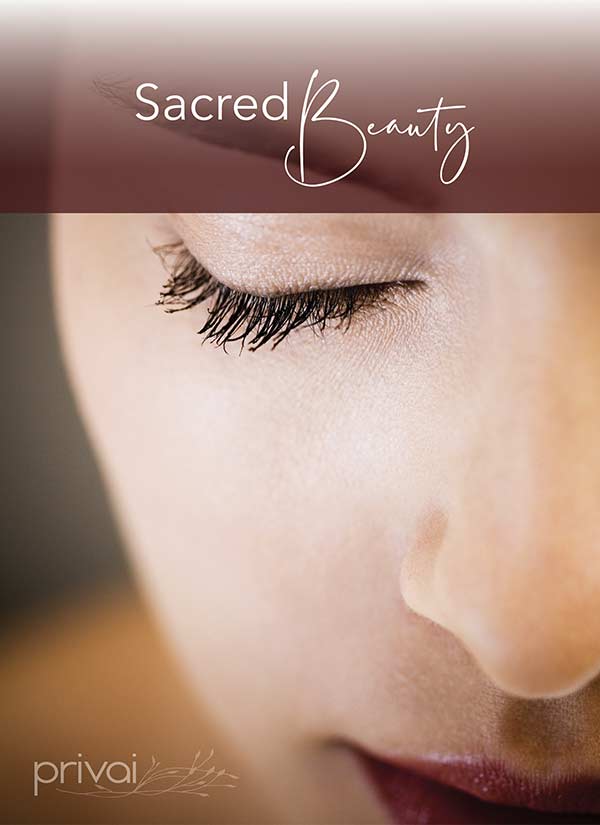 Sacred Beauty
130 minutes: $450
I am beautiful.
Repeat this as a daily mantra. Self-love is what makes you shine from within. Find your true beauty with Privai. This 130-minute ritual uses rose quartz, the stone of love, to reduce inflammation, support lymphatic drainage and connect you to the heart chakra, the energy center of love. A full body silk-infused exfoliation and Aqua Gel Masque hydrates, softens and soothes the skin, while cocooned in warm layers of fine linen.
A customized pressure massage alleviates stress and sources of pain through cycles of isolated pressure and release movements. A sublime experience designed to reawaken love for yourself. We all have within us the potential for a beauty so magnificent, our bodies can't contain it.
*Book from March 1st – March 31st for services rendered in the month of March. Offer expires March 31, 2020. Not valid in conjunction with other packages or specials.