With Mother's Day quickly approaching—say thank you to the woman who brought you into this world with an experience of ultimate relaxation. While she probably won't admit it, she's always in need of pampering. A gift card for a future spa day or the tools needed now for a spa day at home are guaranteed to make any mom in your life grin from ear to ear. At Spa Space, we are dedicated to making moms feel fancy all day long. Show her how much you love her with the gift of health and wellness for the mind, body, and spirit.
Here you'll find Mother's Day inspired spa day at home tips from our various departments.
Be safe, stay at home, call your mom, and remember that your Spa Space family is waiting to serve you during your wellness journey. We will come out of this together and stronger than ever.
---
Massage At Home With Epicuren
Products:
Candle or oil diffuser with preferred aromatherapeutic essential oil
Epicuren Pineapple Papaya Bamboo Body Polish
2 cups of Epsom Salt
Epicuren After Bath Lotion
Technique:
Light a candle or diffuse your choice of an aromatherapeutic essential oil. Next, take a slow, deep breath in through your nostrils, filling your lungs to full capacity, expanding from your belly into your chest. Then slowly exhale through your mouth releasing all air and negative or stressful thoughts. Let it all go. Do this exercise at least 3 times or until you feel centered and grounded.
Once you feel present, apply our Epicuren Pineapple Papaya Bamboo Body Polish to wet skin using light-pressured circular motions. This will not only exfoliate dry and dead skin, but also promote blood flow and circulation to your body. Next, rinse thoroughly with warm water and pat dry. Be careful exiting the shower: the floor might be slippery with product.
To help promote further relaxation for your body, mind, and spirit you can also soak in a warm bath with dissolved Epsom Salt for 20-25 minutes. Then dry off your body with warm, fresh towels. Massage our rich Epicuren After Bath Moisturizer into your skin to diminish dehydration — an all-over body moisturizer with an exquisitely light feel. It's formulated with amino acids and shea butter and has a soft, rich texture. Use controlled movements towards your heart with your level of desired pressure. This will provide deep skin hydration while decreasing tension in your muscles.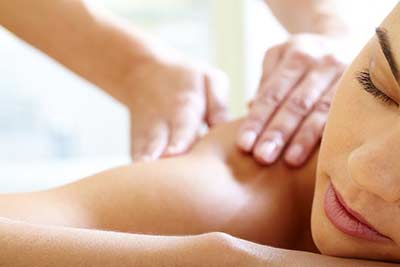 ---
Facial At Home with SkinCeuticals
Products:
SkinCeuticals Gentle Cleanser
SkinCeuticals Micro-Exfoliating Scrub
SkinCeuticals Phyto Corrective Mask
SkinCeuticals Triple Lipid Restore 2:4:2
Technique:
Apply one pump of the Gentle Cleanser, a cream cleanser that soothes and calms dryness and sensitivities, to damp skin and work in circular motions for two minutes. Rinse.
Apply a dime size of the Micro-Exfoliating Scrub to damp skin and work in circular motions for at least a minute. Rinse. Can be used 2-3 times per week. This gentle exfoliant hydrates, softens, and improves skin texture.
Apply an even layer of the Phyto Corrective Mask to the skin. This is a calming botanical mask that cools on contact, hydrates with hyaluronic acid, and helps restore natural radiance and smoothness. Leave on for 10-15 minutes. Rinse.
**You can sleep in this mask if your skin needs an extra boost of hydration. If used as an overnight mask, apply about an hour before you sleep to allow the product to completely soak into your skin. Follow with a moisturizer if desired.
Apply a small amount of the Triple Lipid Restore 2:4:2 evenly over the face. This cream contains the optimum ratio of pure ceramides, natural cholesterol, and fatty acids to nourish the skin and improve the physical appearance of the skin's smoothness, laxity, pores, and overall radiance. Always follow with a quality SPF during the day.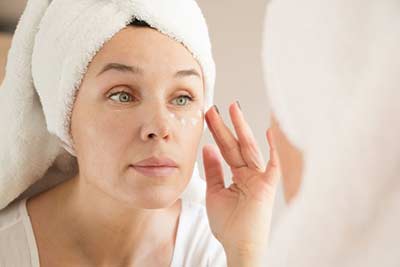 ---
Manicure At Home With Privai
Products:
Nail file
Privai Botanical Body Scrub
Privai Ultra Rich Body Butter
Privai Bath and Body Oil
Privai Hand Sanitizer Spray
Privai Hydrating Hand Lotion
Technique
Internal hydration is extremely beneficial for nail health. Increasing your daily intake of water is one of the best daily habits to help nails grow healthy and strong. Keep your nails shorter than usual during this time. Remember to use gloves while cleaning the house, cleaning products can easily damage nails. Privai just released a brand new FDA-approved Hand Sanitizer Spray and to repair the dehydration caused by the alcohol based formulation needed to kill bacteria and viruses, Privai also released a Hydrating Hand Lotion. This duo was formulated to keep us safe, without damaging our hands.
Take the time to file your nails correctly, if not, you may increase painful breaks and cracks. The correct way to file your nails is in one direction only, not in a back-and-forth sawing motion. Use a side-to-center motion and sweep the file over the tip of the nail.
Treat your hands by exfoliating dead skin and cuticles with Privai Botanical Body Scrub. With a powerful formulation of fine sugar, lemon, verveine, and lavender, this aromatherapeutic scrub easily sloughs away dead skin cells for healthy, glowing skin. Massage the scrub into your hands, focusing on cuticles, knuckles, and both sides of the hands. Follow with Privai Ultra Rich Body Butter for skin hydration and silky soft and nourished hands. Finish your manicure with a cuticle oil (2-3x per day)—the Privai Bath and Body Oil replenishes the skin with jojoba oil, green tea, lavender, and verveine.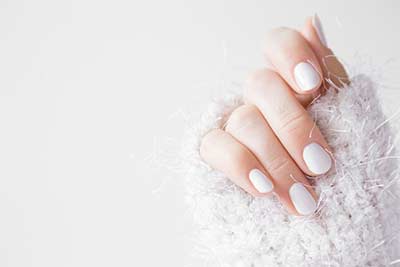 ---
RETAIL SPECIALS
Purchase your Favorite Spa Space Products: the same high quality and trusted products we use in all of our spa treatments!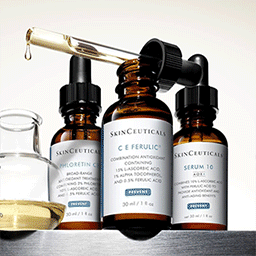 Skinceuticals
Vist Skinceuticals for advanced skincare backed by science. Use this special link to support Spa Space and receive a code for a free sample and free shipping.
Privai
Visit Privai.com for a curated selection of botanically based skin and body care products to use at home. Use code "SPASPACE30" to support Spa Space and receive 30% off your order.
---

A Fund Created To Support Spa Therapists In Need
Spa TheraTips is a fund where 100% of donations go directly to spa therapists to ease the burden of lost wages during the COVID-19 crisis. Our hearts go out to spa therapists, whose livelihoods revolve around helping guests relax with their gift of healing touch.
We truly need our spa therapists now more than ever — to relax stiff muscles and anxious minds, while soothing the fear in our hearts.
Unfortunately, many spas are temporarily closed to flatten the curve of the coronavirus spread. If you are able, please help our talented spa therapists in any way you can.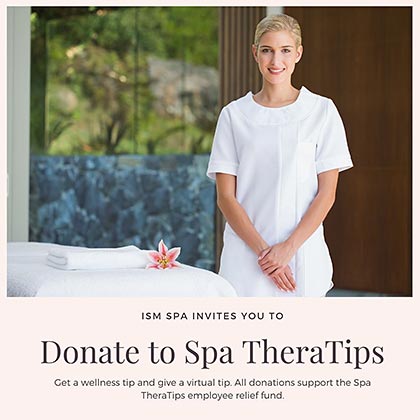 ---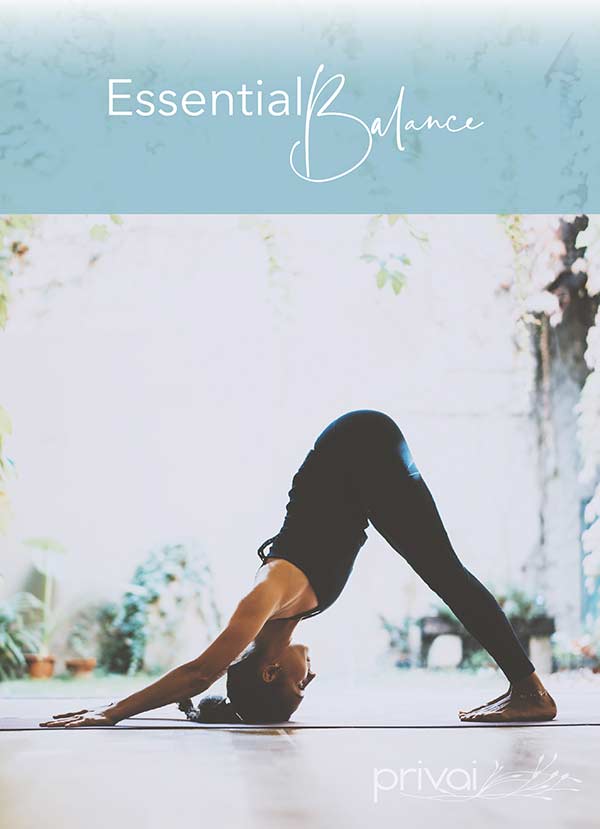 Essential Balance
105 minutes: $350
In our fast-paced, modern world finding balance is synonymous with internal well-being. Balance brings harmony within us—find your center with Privai. This 105-minute ritual revitalizes the mind and body with a silk exfoliation treatment to refresh the skin. A blissful vitamin-E massage releases overwhelming tension and imbalance from the body. A green-tea infused face massage and eye masque promote a youthful appearance by calming, hydrating, and soothing the skin.
Stones are strategically placed to dissolve energy blocks and re-establish balance in the chakras. The ancient art of reflexology is utilized through pressure points on the hands and feet that correspond to specific muscle groups and organs of the body. A singing bowl finishes the sequence by emitting healing sound and stimulating the heart chakra. Cherish the need to step back, take a deep breath, go on a walk, and enjoy the smell of the flowers.
---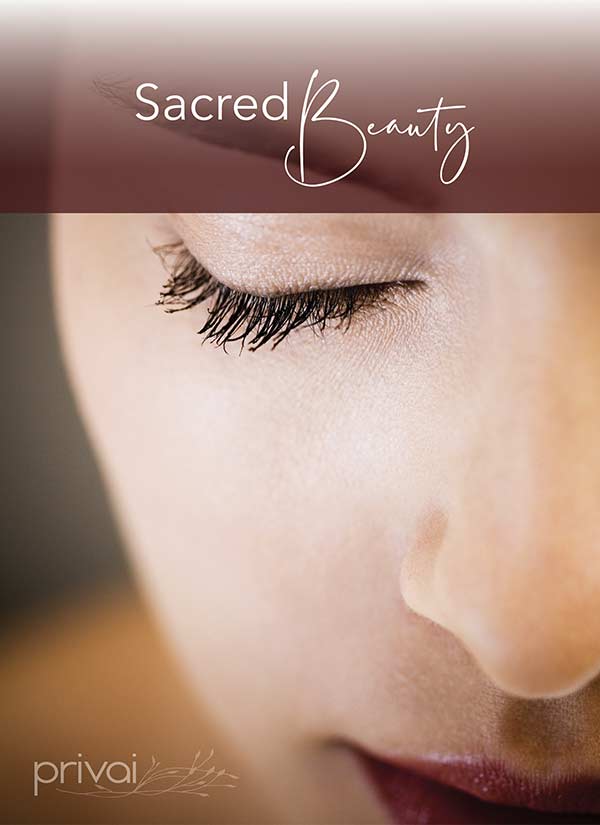 Sacred Beauty
130 minutes: $450
I am beautiful.
Repeat this as a daily mantra. Self-love is what makes you shine from within. Find your true beauty with Privai. This 130-minute ritual uses rose quartz, the stone of love, to reduce inflammation, support lymphatic drainage and connect you to the heart chakra, the energy center of love. A full body silk-infused exfoliation and Aqua Gel Masque hydrates, softens and soothes the skin, while cocooned in warm layers of fine linen.
A customized pressure massage alleviates stress and sources of pain through cycles of isolated pressure and release movements. A sublime experience designed to reawaken love for yourself. We all have within us the potential for a beauty so magnificent, our bodies can't contain it.