[templatic_columns layout="one_third" title=""]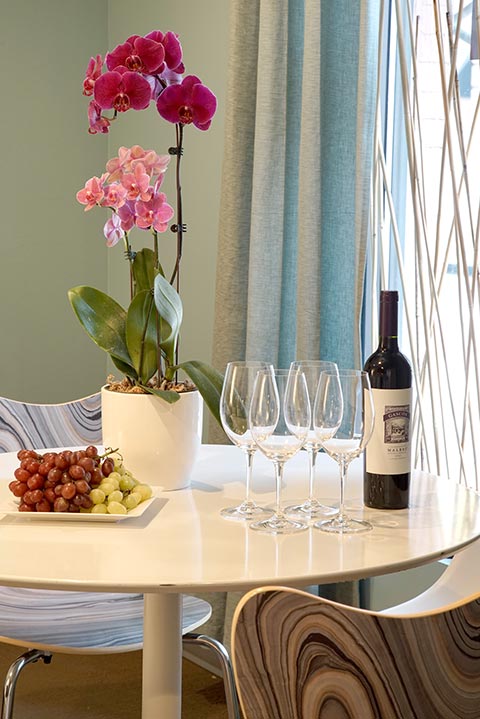 [/templatic_columns] [templatic_columns layout="two_third_last" title=""]
Spa Parties/Corporate Events at Spa Space offer:
· Customized packages to fit a wide range of budgets.
· Pre-priced package options for groups of four or more, including time in our private party room.
· Catering available from a myriad of restaurants, or bring your own.
· Cocktails can be brought in with no pouring fee; glassware provided.
· Friendly, flexible and service-oriented staff.
To learn more, call us at 312-466-9585, email us at info@spaspace.com, or submit an online inquiry form by clicking on "Book Event" on the right side of this page. A group event coordinator will get back to you as soon as possible, generally same-day.
Frequently Asked Questions
[templatic_accordian] [accordian title="What type of events are held at Spa Space?"] We offer the ideal setting for corporate outings, birthday parties, bachelor and bachelorette parties, baby showers, couples' parties, reunions and more. Enjoy a combination of spa services, pampering, quality time with your friends, family or colleagues, and optional food & drink. We are experts at arranging and coordinating spa parties so that you can relax and enjoy! [/accordian]
[accordian title="How many people are considered a group?"] Four or more people receiving any package combination (multiple services, either standard packages or a la carte) are considered a group. [/accordian]
[accordian title="How large a group can Spa Space accommodate?"]In a one-hour period, we can accommodate up to 40 services. Depending on the duration of the services selected and the length of time allowed, we can accommodate even larger groups.
[/accordian]
[accordian title="What is required to hold time slots for a group event?"]A non-refundable deposit, a credit card number to secure all appointments booked, and written acknowledgement of our group cancellation policy are required to schedule a group event.
[/accordian]
[accordian title="What is the group cancellation policy?"] Any service(s) not cancelled at least 72 hours prior to the scheduled appointment time and any no-shows will be charged the full service price to the credit card used to secure appointments.
[/accordian]
[accordian title="Is there a private room for groups?"] A private party room is available for groups to reserve. Hourly rental rate is $100 per hour. The room seats up to 12 guests. It includes a refrigerator/freezer, cafe tables, stools, and a sink with countertop.
[/accordian]
[accordian title="What are the food and beverage options?"] Our group coordinators can arrange catering, or groups may bring in their own food. Coffee, water and tea are complimentary. Alcoholic beverages may be brought in by the group. Keep in mind that we do reserve the right to refuse service to intoxicated individuals for your own safety, as some of our services increase the affects of alcohol. Also keep in mind that alcohol will not be served past closing time. Glassware and openers are available for your use.
[/accordian]
[accordian title="Can the spa be rented for exclusive use?"] Special arrangements can be made for rental of the entire spa facility. Please discuss this option with your coordinator.[/accordian]
[accordian title="Do you have pre-priced packages available for groups?"]Yes. Please click here to review some of our group package options.[/accordian]
[accordian title="Does Spa Space do outcalls and/or mobile spa services (at corporate/hotel locations)?"] Yes, we can provide outcall services for your convenience. Please view our "At Your Place" menu of services and information.[/accordian]
[/templatic_accordian] [/templatic_columns]