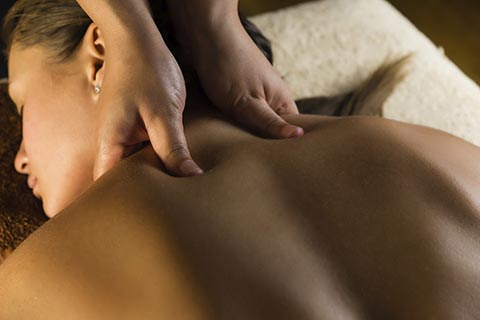 Massage
Chicago's best massage therapists work at Spa Space, performing fully customized treatments, so you receive exactly the massage you want. If you've never had a massage before, please read our frequently asked questions for general information about what to expect. Massage includes use of a spa robe and sandals, locker room with full amenities, and rain and steam showers. Chill out before and after your services in our relaxation lounge, and snack on healthy treats while you sip on a selection of gourmet herbal teas.
MASSAGE TREATMENTS
---
Custom Massage
Gone are the days of picking services from a list. This personalized massage is created exclusively for you. Tell us about your wellness goals and areas of preference, then unwind with a customized experience. Your expert therapist may use a variety of massage styles such as Reflexology, Deep Tissue, Prenatal, Swedish, Neuromuscular, Stretching and more.
Reiki
Reiki is a Japanese relaxation technique that slows down the mind and raises the physical body's frequency. A Reiki session at Spa Space will not only relax you, but also shift the way you approach your daily life, as well as better connect you to your desires and purpose. A 75-minute service you will not forget! Note: This specialized treatment has limited availability, so please call in advance to schedule.
MASSAGE ENHANCEMENTS
---
Detoxifying Dry Brush Exfoliation
A perfect addition for your custom massage experience. This invigorating treatment detoxifies, exfoliates, improves circulation, and stimulates the lymph system leaving your skin renewed with an increased sense of wellbeing. Our dry body brush exfoliation is a must-try.

Pain and Stress Relieving Oil
Reduce pain, relax muscles, and promote cellular rejuvenation with this full body relief oil. Designed to help ease anxiety and create the space you need to decompress and disengage from the world around you.

Privai Body Butter
Elevate your massage experience with whipped body butter, rich with Shea Butter and Rosemary Leaf Extracts. Imagine deep hydration and soft skin.

Immune Boosting Aromatherapy
Boost your immune system with therapeutic grade essential oils during your custom massage.