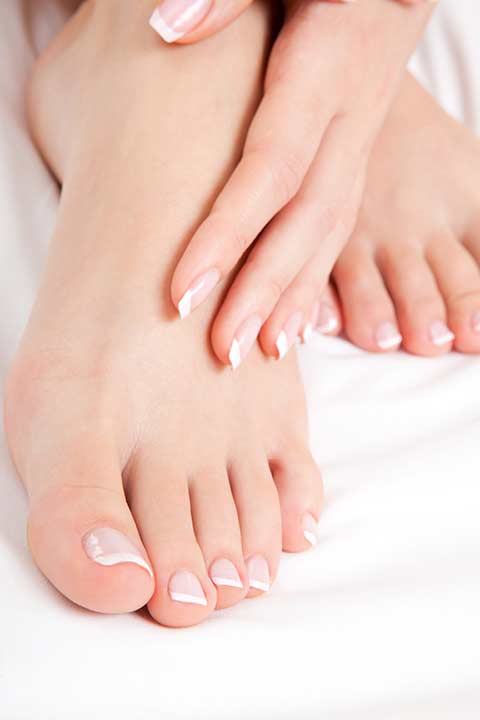 Spa Space is well-known in Chicago for outstanding manicure and pedicure quality. For maximum hygiene and safety, we carefully follow or exceed all State requirements by using a fresh file, buffer and wood stick for each and every client. You are welcome to take yours with you, otherwise, we will dispose of them. Further, each of our licensed nail technicians is required to have two sets of metal implements so they can be properly sanitized between clients.
NAILS
---
No-Chip Gel Manicure
Extend the life of your manicure for up to 2 weeks and experience the magic of an instantly dry manicure.
45 min; $45
Custom Manicure
Includes hand and arm massage, hot towels, with expert cuticle and nail detailing with polish application.
30 min; $25
Custom Pedicure
Includes a relaxing massage with botanically rich products and hot towels to hydrate and restore tired feet.
50 min; $55
Super Scrub Pedicure
Includes a lemongrass foot soak to soften the skin, a powerful callus remover, intense citrus scrub to exfoliate, and a warm paraffin to lock in the hydration. Finished with Spa Space lemongrass massage lotion. Dead skin beware!
60 min; $69
Custom Premium Pedicure
Our most extravagant and acclaimed pedicure for people who ache for a longer massage, seek extreme exfoliation, and thirst for extra hydration. Our Happy Feet Pedicure includes everything we could dream up to delight your senses while transforming your body from the knees down. Includes an organic luxury soak, shea butter scrub, moisture mask, hot stone massage followed by a moisturizing paraffin treatment. Not to be missed!
80 min; $99
RX Pedicure
Our in-house pedologist, a nail technician with specialized training in pedology, or foot care science, performs this advanced pedicure. If you have diabetes, seriously dry skin (deep fissures, crack on the heels or soles), ingrown toe nails, high curvature of the nails, and excessive calluses on the soles, then the tools and skills applied in this service are designed to help you. An electric pedicuring file with specialized bits will be used, along with special cream and homemade honey-Epsom salt scrub. Polish is included. For problems that cannot be addressed in the spa setting, you will be referred to a medical specialist.
Note: this service is performed by a specially-trained technician and may not be available at all times. For more info on this service, click here.
Up to 60 min; $80
NAIL ENHANCEMENTS
---
Long Wearing Polish
Extend the wear time of your polish with Vegan Dazzle Dry, CND Vinylux or Infinite Shine.
Scrub and Mask
Add some extra luxury to your manicure or pedicure! You'll see and feel the difference when you add our premium exfoliation and deep hydrating mask.
Paraffin Treatment
Luxurious and hydrating warm paraffin wax hydrates dry skin.
Keratin Gloves
Collagen and Keratin combine for a rich hand treatment and receive a set to take home to continue the therapy.
Nail Art or French Design
Show your creative side with French Design or Nail Art!
Gel Polish Removal
Removal is included with our No Chip Gel Manicure. This addition is applied when not receiving another application of Gel Polish. Price may be adjusted if removal takes longer than 15 minutes.