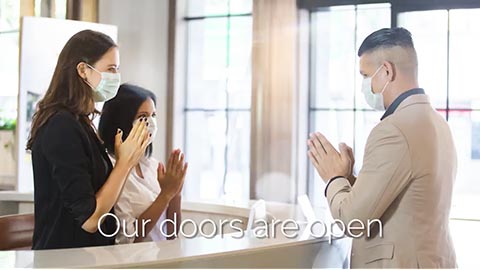 In these times of uncertainty, as the impact of COVID-19 continues to evolve, Spa Space is committed to adhering to the protocols advised by the CDC (Centers for Disease Control and Prevention) and WHO (World Health organization) and following real-time updates to stay abreast of the ever-changing situation. We will take all measures that are approved and recommended by these organizations. The well-being of our associates and guests is our top priority, and we would like to assure you that health and safety have our full attention. All of our staff are fully aware of the current requirements and are undertaking extreme levels of health and safety procedures to ensure the highest possible hygiene standards are maintained, throughout every aspect of our spas. We are thoroughly cleaning the retail and spa areas including bathrooms, treatment rooms, and all communal areas. Our staff is thoroughly washing hands and adhering to the CDC guidelines.
We ask that all our guests please be aware if you have mild cold/flu-like symptoms, health officials encourage you to stay home while sick and avoid close contact to help protect others. For the safety of everyone, our spa professionals are permitted to decline service to any customer exhibiting contagious symptoms and will reschedule your appointment. We have also instructed our associates that if they exhibit any cold/flu-like symptoms, they should stay home. Should you need to cancel for any health-related reason, our spas will waive the 24-hour cancellation fee at this time. Should we need to alter our operating hours and/or reduce staffing for any reason, we will send out an email and keep everyone informed. We will continue to monitor and follow all government and official guidance from authorities for the health and wellness of our staff and communities.
These are some things that we have added to our routine:
Temperature and Symptom Check For All Guests, Staff, and Providers: If you or anyone in your household has experienced fever, cough, sore throat, shortness of breath, or unusual aches + pains, or your temperature is 100.4 or higher, you will be asked to reschedule in 14 days. All of our staff and providers will also have a temperature and symptom check before entering the spa. If at any time any of our team members answer yes to the symptom questions or register a temperature of 100.4 or higher, they will be asked to leave the premises and will need to be symptom and fever-free with a doctor's note in order to return to the spa.
EPA-Approved Disinfectants: clean-up time between services has been extended to 15 minutes to ensure proper sanitation. This includes laundering of all guest linens between services as always, sanitation of the spa and treatment rooms between guests, and medical-grade hand sanitizer available throughout the spa
PPE: all team members will wear PPE for their and your protection. This includes face masks, face shields, and gloves, when appropriate
Masks: we require our guests to wear masks as well
Hand Washing: team members will follow CDC guidelines by hand washing and sanitizing before and after all services
For Your Comfort: arrive for your spa day in comfortable clothing and with limited belongings, as our lockers, robes, and steam rain showers will be unavailable for now. We will update you when these services will be accessible again in the near future.
Temporary Operating Hours: we will be re-opening on July 16th! YAY! We will be open Thursdays-Mondays 10 am to 6 pm. We will be regulating the needs of the business and customer demand and will resume regular business hours once we feel comfortable that the demand is appropriate for those hours.
Social Distancing: Our seating throughout the spa has been comfortably spaced out for social distancing. In order to achieve optimal safety in the spa, we will be suspending the spa lounge area and the snack service for now. Please bring your own water. We want to respect the 6 ft. apart social distance requirement and will do our very best to make sure everyone is respecting this request.
Renovations: · we've made necessary renovations to provide a cleaner and safer spa environment. Our air ducts have been cleaned and we've installed UV Air Purifiers. All of the treatment rooms have hard floors for better sanitation.
Service Fee: a 20% service fee will be added to all treatments.
We would like to take this opportunity to thank you for your continued support and loyalty. We will all get through this together and stronger than ever.