| | |
| --- | --- |
| | Sonia Rivera is a licensed Acupuncturist in the State of Illinois and received her Masters of Science in Traditional Oriental Medicine from Pacific College of Oriental Medicine in San Diego, which included an advanced course of study and clinical internship in Nanjing, China. With several years of experience, Sonia specializes in pain management, men's and women's health, infertility, and psycho-emotional disorders. |
ACUPUNCTURE
---
Acupuncture: Initial Consultation and Treatment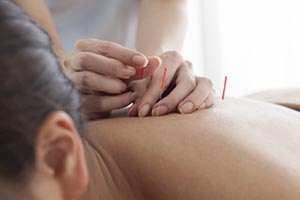 Acupuncture involves the painless insertion of very fine sterile needles, strategically placed, to various areas of the body. A key component of traditional Chinese medicine, acupuncture effectively treats a range of common ailments, including back and muscular pain, insomnia, headaches, fatigue, anxiety, and much more.
75 min; $130
Acupuncture: Follow Up Sessions
60 min; $110
Acupuncture Packages
3 sets; $290
5 sets; $450
10 sets; $800
Cosmetic Acupuncture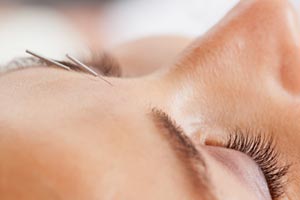 Cosmetic acupuncture is often referred to as a "non-surgical facelift" due to its dramatic results and proven effectiveness, growing increasingly popular, especially among Hollywood celebrities. Cosmetic acupuncture is a safe treatment used to naturally reduce the signs of aging. Miniature sterile needles are inserted along wrinkle and frown lines to firm skin and promote a healthy, youthful complexion.
Benefits include:
· Eliminate fine lines and soften deeper wrinkles
· Minimize dark circles, puffy eyes, and droopy eyelids
· Minimize double chin and sagging skin
· Improve skin circulation and oxygenation
· Stimulate collagen production
· Tighten pores
· Brighten eyes
· Control acne
· Nourish and moisturize the skin
· Improve complexion
The recommended course of treatment is ten to twelve sessions. For best results, this should be done one to three times a week. Visible results will be noticeable after six to seven sessions. Maintenance may be needed once every month to ensure your investment.
60 min; $130
3 sets; $350
5 series; $550
10 series; $1000
CUPPING
---
Single Cupping Session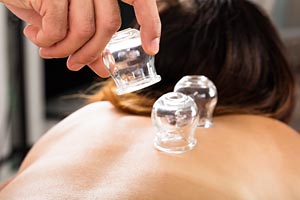 Cupping is a painless therapy using suction and negative pressure to loosen muscles, promoting pain reduction and healing.  It can be used for a variety of conditions such as back, neck, leg and shoulder pain, anxiety, fatigue, migraines, rheumatism and even cellulite, in addition to various lung conditions like asthma, cough and the common cold.  For weight loss and cellulite treatments, oil is first applied to the skin, and then the cups are moved up and down the surrounding area.  Although cupping is not painful, it may leave marks that resemble bruises that disappear after a few days. Cupping is one of the best deep tissue therapies available. It is thought to affect tissues up to four inches deep from the external skin thereby releasing toxins and clearing blockages and invigorating veins and arteries in that area.
30 min; $50
Cupping Add-On to acupuncture 
$25
About Acupuncture & TCM

Acupuncture and Traditional Chinese Medicine (TCM) is based on the concept of qi (pronounced "chee") or essential life force that flows through the body, circulating through invisible pathways called meridians or channels that influence associated organs and systems.  Energy from these pathways surfaces at various points on the body called acu-points.  When qi flows freely, the body is healthy.  When qi flow is impaired, dis-ease ensues.  To stimulate these points very thin, hair-like sterile needles are superficially inserted into the skin.
The medical practice and teachings of TCM are more than 5,000 years old.  This ancient and holistic medical healing system is a natural and preventative approach to health care with a main focus on discovering and treating the underlying root cause of illness rather than treating the symptoms and stimulating the body's ability to heal itself.
The medical perspective of TCM views the human body as an integrated whole, acknowledging the need to balance the physical, emotional and spiritual aspects of the individual.  It is a nurturing and supportive scientific addition to traditional Western medical practices and is a great compliment to those undergoing care from other health care professionals.
Many studies have shown that acupuncture is effective at treating a wide range of conditions such as back pain, musculoskeletal problems, digestive disorders, migraines, anxiety, menopause, fertility, addictions to name a few.  It is commonly known in particular in successfully treating acute and chronic pain.
CONDITIONS TREATED WITH TRADITIONAL CHINESE MEDICINE
There are numerous scientific studies proving the effectiveness of Traditional Chinese Medicine.  The World Health Organization  (WHO) has cited over 100 different conditions that have been effectively treated by acupuncture.  Clinical research on acupuncture is encouraging and its practice is now being incorporated into hospitals and healthcare clinics throughout the world.
The following is a partial list of the most common ailments which respond well to Traditional Chinese Medicine.
| | |
| --- | --- |
| Addictions | Gastrointestinal |
| • Smoking | • Bloating/Gas |
| • Overeating | • Constipation |
| | • Crohn's Disease |
| Bone/Muscular/Skeletal | • Diarrhea |
| • Accident injury | • Food Poisoning |
| • Arthritis | • Heartburn |
| • Body aches | • Hemorrhoids |
| • Back pain | • IBS |
| • Carpal tunnel | • Indigestion |
| • Frozen shoulder | • Nausea, Vomiting |
| • Fibromyalgia | • Obesity/Weight loss |
| • Headaches | • Ulcers |
| • Knee pain | |
| • Migraines | Gynecological |
| • Osteoporosis | • Pre & Post Natal Care |
| • Rotator cuff pain | • Menopause |
| • Shoulder pain | • Morning Sickness |
| • Sciatica | • PMS |
| • Sports injuries | • Fertility |
| | • Fibroids |
| Cardiovascular Disorders | • Menstrual Disorders |
| • Angina | • Menopause |
| • Cholesterol | • Ovarian Cysts |
| • High or low blood pressure | |
| • Stroke | Mind/Spirit |
| • Thrombosis | • Anxiety |
| | • Chronic Fatigue |
| Endocrine problems: | • Depression |
| • Diabetes | • Irritability |
| • Gout | • Lethargy/Low Energy |
| • Hyperthyroidism | • Poor Memory |
| • Hypothyroidism | • Stress |
| • Hypoglycemia | • Tiredness |
| • Multiple Sclerosis | • Insomnia |
| • Parkinson's Disease | |
| | Other Conditions |
| Respiratory | • Allergies |
| • Allergies | • Dizziness |
| • Asthma/Bronchitis | • Edema |
| • Colds & Flu | • Excessive Sweating |
| • COPD | • Facial Paralysis |
| • Cough | • Sexual Problems |
| | • Urinary-genital Disorders |
| Skin | |
| • Acne | |
| • Hives | |
| • Cellulite | |
| • Eczema | |
| • Hair Loss | |
| • Wrinkles | |