one third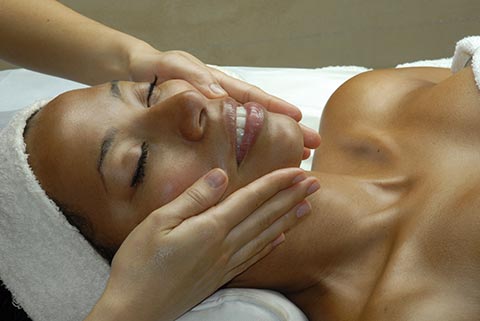 Because your skin is as unique as you are, we offer a wide variety of facials and corrective facial skincare treatments. Your licensed and highly-trained esthetician will examine your skin, consult with you, and customize your treatment to meet your skincare needs and goals.
FACIAL SKIN CARE TREATMENTS
---
Custom Facial
Our classic European-style facial is completely customized for you, based on your needs. Combining skin-type-specific cleansing and toning, exfoliation, deep-pore cleansing extractions, a customized treatment mask, and hydration for full rejuvenation of the skin.
60 min; $120
Premium Custom Facial
Highly results-driven, this facial incorporates all the steps you love in our Custom facial, with the inclusion of premium and active products, chosen by your expert esthetician specifically for your skin's needs. This custom facial improves brightness, texture and clarity. You will see and feel immediate results.
60 minutes; $160
FACIAL ENHANCEMENTS
---
Hydrating Face Masque
Our collagen face masque hydrates, tightens and reduces fine lines and dark circles.

Premium Peel
This peel is great for a deeper exfoliation. Benefits include improving effectiveness and penetration of products, boosting anti-aging efficacy and complexion renewal up to the next level.

Corrective Peel
Resurface and restore a bright healthy complexion with a choice of Privai's glycolic or salicylic peel.

Microdermabrasion
Remove dead skin cells and stimulate cell turnover with this tried and true treatment. Great for treating acne, fine lines, excessively dry skin, sun damage, and surface age spots.

Microcurrent or LED Therapy
Tighten, firm and tone skin with facial contouring microcurrent technology, or target acne and inflammation with LED infrared therapy.

HYDRAFACIAL
---
Signature HydraFacial
This luxurious facial treatment deeply cleanses, exfoliates, extracts, and hydrates the skin utilizing super serums filled with antioxidants, peptides, and hyaluronic acid. Highly effective and recommended for those craving a fresh face.
30 minutes; $199
Platinum HydraFacial
Enjoy benefits of the Signature HydraFacial while reducing the appearance of fine lines and wrinkles with the DermaBuilderTM or Britenol Booster, and LED Light Therapy for maximum results.
60 min; $325
HYDRAFACIAL ENHANCEMENTS
---
HydraFacial Lymphatic Drainage
Optimize skin health by encouraging detoxification through mechanical lymphatic therapy. Your skin will feel healthy and radiant from the inside-out.

HydraFacial Enhancements: Choose from Lip Perk, Eye Perk, or Booster
HydraFacial Perk and Boosters are the perfect compliment to any HydraFacial treatment. Targeting the most delicate areas of the face to gently cleanse, hydrate and deliver antioxidants and nutrients.

Hydrafacial Eye and Lip Perk Combo
A refreshing and revitalizing reatment that leaves the delicate eye area toned, firmed and hydrated, and your lips exfoliated, hydrated and lightly plumped.