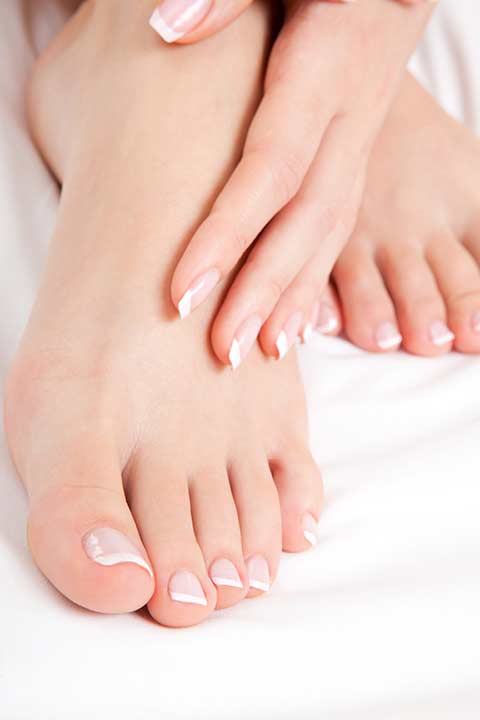 Spa Space is well-known in Chicago for outstanding manicure and pedicure quality. For maximum hygiene and safety, we carefully follow or exceed all State requirements by using a fresh file, buffer and wood stick for each and every client. You are welcome to take yours with you, otherwise, we will dispose of them. Further, each of our licensed nail technicians is required to have two sets of metal implements so they can be properly sanitized between clients.
MANICURE TREATMENTS
---
No-Chip Manicure
Extend the life of your manicure to up to 2 weeks, and experience the magic of an instantly dry manicure!
Add $20 to your choice of manicure below.
Note: Removal of no-chip applied at Spa Space is complimentary with a new no-chip manicure. If no-chip was applied elsewhere, removal charges will be added based on removal time. Removal of no-chip applied at Spa Space with basic manicure starts at $10 (price subject to adjustment if product was applied elsewhere and removal takes longer than 15 min. allotted).
Spa Space Signature Manicure
Full-service classic manicure with a green tea and lemongrass twist. $24
Man Hands Manicure
Includes hydrating paraffin treatment and choice of clear polish or buff. $25
Road to Recovery Manicure
When your nails are short, damaged, peeling and generally a mess, you are more in need of a manicure than ever! Our specialists will get your hands on the right track with this extended transformative service designed to treat hands, cuticles and nails. You will be sent home with a treatment product (a $13.50 value) to continue the strengthening process. 45 min.; $50
Vanilla-Almond Manicure
Includes coarse vanilla-sugar scrub for exfoliation, a softening mask using pure almond oil (a favorite since the days of Cleopatra) and a rich vanilla-almond hydrating massage. Excellent for dry, rough, itchy skin. $35
Additional Options
French manicure, add $5
Paraffin hand treatment $10
Polish change $12
French polish change $15
PEDICURE TREATMENTS
---
All pedicures include choice of polish or buff. For French polish, add $8.
For added privacy, please request our Pedicure Suite (accommodates only two guests). Feel free to bring a bottle of wine – we'll provide the glassware! Add $5 to each pedicure.
Space Signature Peppermint Pedicure
Includes softening foot soak, minty-sugar foot scrub to remove dead skin, and invigorating foot cream for a hydrating finish. 50 min.; $45
Sports Pedicure
Great for those of us who are hard on our feet! Includes softening foot soak, heavy-duty citrus scrub and clay mask for hydration and renewal. 50 min.; $55
Vanilla-Almond Pedicure – super-hydrating!
Using luxurious honey, almond and vanilla ingredients to delight your senses while exfoliating and softening your feet. Includes richly hydrating foot mask. Excellent for dry, rough, itchy skin. 50 min.; $55
Mango-Pineapple Enzyme Pedicure
Give your feet a tropical vacation! Includes aromatherapy foot soak, mango sugar scrub, softening paraffin treatment, and a massage using a rich tropical cream. 50 min.; $55
"Super-Scrub" Lemongrass Silk Pedicure – super exfoliating!
Includes lemongrass foot soak to soften the skin, a powerful callus remover, intense citrus scrub, and warm paraffin to lock in the hydration. Topped off with a lemongrass massage lotion. Dead skin beware! 60 min.; $60
"Mega-Massage" Lavender Pedicure – most massaging!
If you always wish that the massage portion of the pedicure would last just a little bit longer (or let's face it – a LOT longer), this is your best choice. This extended version includes all the necessities of a full-service pedicure – using ultra-relaxing lavender products – with tons of extra kneading for your lower legs and feet. 70 min.; $75
"Happy Feet" uber-Pedicure – best combo of hydration, exfoliation and massage!
Our most extravagant and most acclaimed pedicure for people who long for a longer massage, ache for extreme exfoliation, and thirst for extra hydration – Happy Feet includes everything we could dream up to delight your senses while transforming every little body part from your knees on down. Includes aromatherapy soak, warming scrub, cooling treatment mask, hot towels, paraffin dip, extended massage, and more. Not to be missed! 80 min.; $95
Ped Rx
This advanced pedicure is performed by our in-house podologist (a nail technician with specialized training in podology, or foot care science). If you have diabetes, seriously dry skin (deep fissures, crack on heels or soles), ingrown toe nails, high curvature of the nails, excessive calluses on the soles, etc., the tools and skills applied in this service are designed to help you. An electric pedicuring file with specialized bits will be used, along with special cream and homemade honey-epsom salt scrub. Polish is included. For problems that cannot be addressed in the spa setting, you will be referred to a medical specialist. 75 min; $75
Note: this service is performed by a specially-trained technician and may not be available at all times. For more info on this service, click here.
Additional Options
Turn any pedicure French for + $8
Add paraffin to any pedicure for + $10